Please remember to send in any photos either printed off or via your class email of events and celebrations you may have attended over the holiday for the Jubilee.
In Week 2, we will be holding our special whole school week where we will be commemorating the Queen's Platinum Jubilee. We will be asking the children to wear red, white and blue or purple on the Friday (17th June).
Term 6 Key Dates:
Please note the dates below as there are a couple that have been changed since last week.
w/c 13th June – Jubilee week
Thursday 23rd June – Sports day 1:30 pm – 3:15pm
Wednesday 29th June – Reception shuffle up to Year 1 for part of the afternoon
Friday July 1st – Learning Shares in classes (Class 2 9:10am and Class 1 and 3 at 2:50pm)
Wednesday 13th July – Reports will be sent out
Thursday 21st June – Last day of day
1st and 2nd September – Inset day
1st January 2023 – Inset day
Noticeboard
If you are having a street party (or doing any other Jubilee celebrations), please bring in photos or send to the class email address as we will be having a week long focus on the Jubilee during Week 2 of Term 6.
If your child finishes one side of their bookmark, meaning they are due a certificate, please let your child's class teacher know. We do not check them ourselves, we rely on you telling us – thank you!
Monday Mile – Now that the weather is getting warmer, field is not as damp, therefore the children no longer need to wear their wellies to school on a Monday for our Monday Mile.
Every child needs to bring their book, book bag and reading record into school everyday.
Please do not allow your child to play with the resources that have been set up on the patio before school (including the mountain and the bikes/scooters). Please pass this on to any adults who bring your child to school.
Phonics and letter formation document (click here)
Please remember to read the phonetically decodable reading book with your child everyday.
Celebrations
This week, each class have made their own collaborative book with the writing they have done. They have all written about what they would do if they had a magic bean like Jack did from Jack and the Beanstalk. The children worked like the ELLI Unicorn and some of their ideas included having a pet dinosaur and chests full of treasure! Alongside this, we have continued to watch our seeds grow into plants and document this in our long term study book.
Star of the Week
Class 1 – Ofri
Class 2 – Joe
Class 3 – Chloe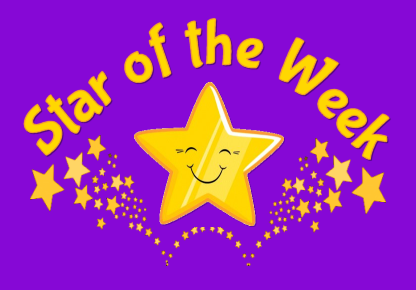 Evidence Me – Observation request
Please capture your child's ideas in writing, video or picture to share what they know about the UK weather and in particular the seasons.
Please click here to view the Evidence Me parents guide.
Week 1 Learning
Personal, Social and Emotional Development
Our new topic is 'Changing Me'. This week we will start learning about our bodies.
Communication and Language
This week, we will be reading and performing the poems from our key text called 'Minibeast Poetry'.
Word of the week: Minibeast
Physical Development
We will be finding out how to be a good teammate while using speed and agility as we try the bean bag relay race.
Literacy
Please continue to use the phonics and common exception word grid with your child to practice all the phonemes and 'CEW' we have learnt so far. We suggest doing this alongside their daily reading.
Click here to access our GPC (grapheme phoneme correspondence) and common exception word mat.
This week we will master our Phase 4 learning, learning about adjacent consonants.
Please support your child at home to practise their letter formation. Click here to see the correct letter formation and 'script' we use in school to support children to form their letters. This will ensure consistency between home and school.
This week we will read with your child either 1:1 or in a small guided reading session. Please continue to read with your child every day to improve their fluency with a text. Ask your child questions about the characters, what they think might happen next and discuss/ explain what they think is happening in the pictures.
Writing –This week we will be designing and writing Father's Day cards.
Maths
This week we will be learning about doubling facts and odd and even numbers. We will be using and looking at lots of different representations.
Understanding the World
We will be walking around the school site and looking for signs of summer. This will be our final seasons walk as we have already been on 3!
Religion and Worldviews
This term, we will continue our big question 'How should we live our lives?'. This week, we will be thinking about who is important to Christians.
Expressive Arts and Design
This week we will be continuing with our animal rhythm music lessons. We will learn to compose, perform and maintain a rhythmic ostinato.